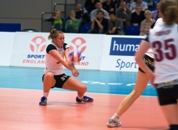 Loughborough Leave Sheffield With Women's National Cup!
They may have been empty handed in the 2005 clash against London Malory but this years women's Cup Final went Loughborough's way in what was a enthralling 5 set roller coaster.

Some of Britain's best faced each other in the clash, with Division 1 winners Malory equipped with the likes of Rachel Laybourne, Lucy Wicks, Lizzie Reid, Maria Bertelli and Natasha Brewer. Loughborough had equal strength however with Helen Brown, Zara Dampney, Jen Taylor, Kate Fiddler, Lauren Williams and Grace Carter.

With the crowd peaking it's maximum for the Cup matches, the atmosphere for both teams kept their adrenalin going, which was much needed for this five set marathon!

Loughborough started strong, with powerful hitting from Jen Taylor and Zara Dampney but Malory were always close behind, with setter Lucy wicks working well with Rachel Laybourne, exhibiting why Malory are top of the table.

Loughborough took the first set however to 21, leaving Malory with a chase on their hands into the second. Despite being neck and neck in the second set, Malory's energy and effective play from substitute Audrey Cooper, paved their way to bringing the game back at one all, 25-19.

The third and fourth sets were close with both teams inching each point ahead of the other. Loughborough took the second to 23 and Malory took the fourth to the same deficit, leading to a fifth set decider.

With nerves building and the now packed crowd at brimming point, the excitement was what has come to be expected of the National Finals clashes.

GB beach players Helen Brown and Zara Dampney exhibited their skills on solid ground, giving Loughborough confidence to believe they could take the win. Malory however were far from defeated, with tired but strong performances from Rachel Laybourne, Maria Bertelli and Lucy Wicks, all on the GB Women's Programme.

Lizzie Reid chased down some impossible balls for Malory, keeping them close on the heels of Loughborough who were pushing ahead at 10-6. Bertelli and Laybourne had some great power hits for the London side too, but they couldn't convert a win, leading Loughborough to a well deserved title and a reversal of the '05 clash with the London giants.

Final score Loughborough 3-2 London Malory (25-21, 19-25, 25-23, 21-25, 15-11)

Most Valued Player was awarded to Kate Fiddler, who received a generous Voucher courtesy of Long Tall Sally and a Human Kinetics Volleyball book.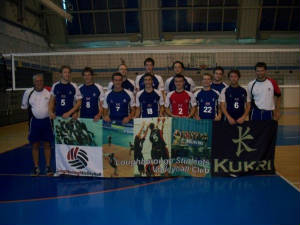 EUSA Ends For '07
British representatives Sheffield Hallam and Loughborough, had their final classifications matches yesterday, 23rd July, in their last day of the tournament.

Loughborough defeated TOBB University (TUR) in straight sets, playing controlled and measures volleyball. This sees Loughborough end up in 19th place.

Sheffield Hallam faces INSA Lyon (FRA) and had a gruelling five setter in high heat and humidity. Despite having 12-8 and 14-11 advantages in the final set, Hallam continued to show signs of fatigue and lost 18-16 to finish 18th in the Championship.

Both teams are said to have enjoyed the experience and opportunity to play teams of a higher level. Hallam will be disappointed their previous experience did not help achieve a higher ranking. Loughborough gained a valuable debut as well as discovered the captain of the Athens team had already signed up for a year of study in the Midlands next year.

The finals themselves were a great showcase, played in the famous 2500 seater Mladost stadium. The Russian women showed class throughout with great power hitting to see off the Slovenians in three sets. The men's final saw Gazi, with four Turkey internationals, face Siberian Federal State University with their three national junior team players. A feast of skill, kill blocking, energetic defence, big hitting from five positions and total commitment, the Russians took the first set but the Turkish team were highly motivated and won in four.

Full details of all the results can be found at the EUSA website...


BUSA/Student Cup 2006-7 Results
Men - Finished 3rd in BUSA, 4th in Student Cup missing out on 2 final appearances by just 2 points in both cases to London.
Women - 2nd in Student Cup losing to Dublin in the Final.
BUSA / Student Cup 2007-8 Results
Men - Student Cup Runners Up
Women - Student Cup 3rd, BUSA Runners Up